PAST PUPPIES AT THERE NEW HAPPY HOMES!!!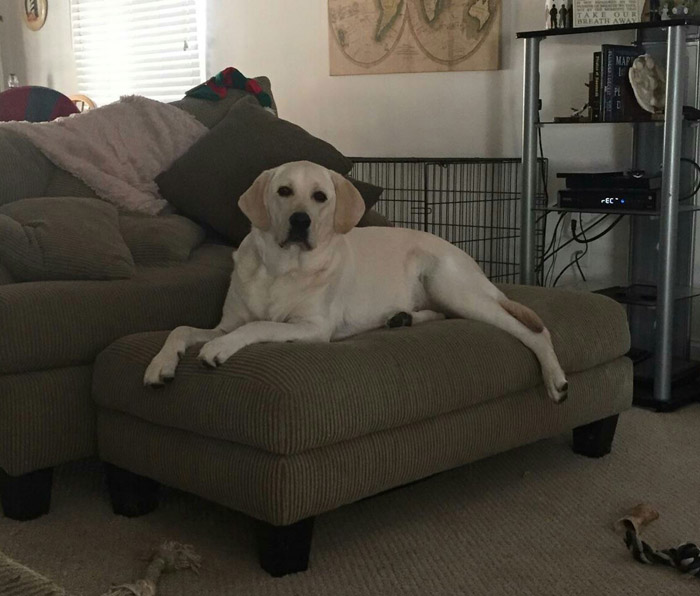 This handsome guy is out of the 2014 litter Maddie & Konrad had!
Thanks for sharing his picture with us Leighann!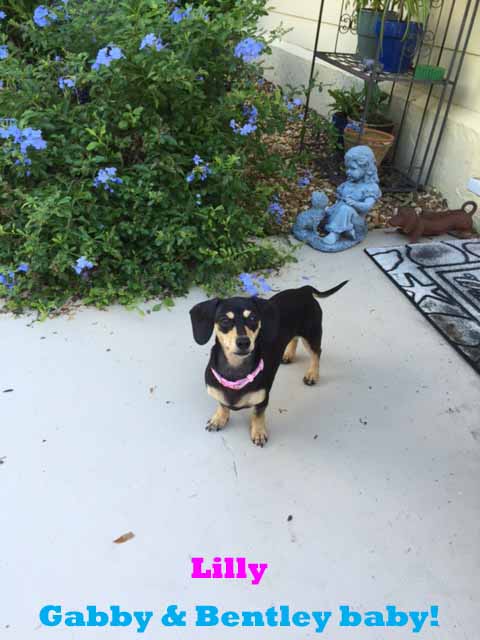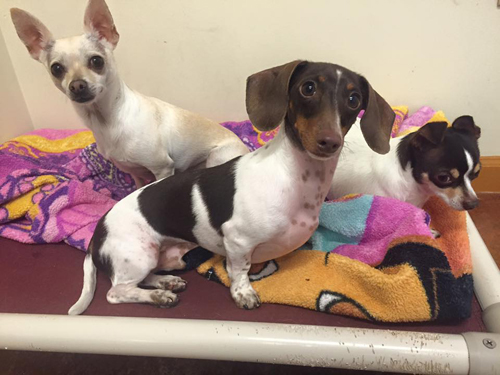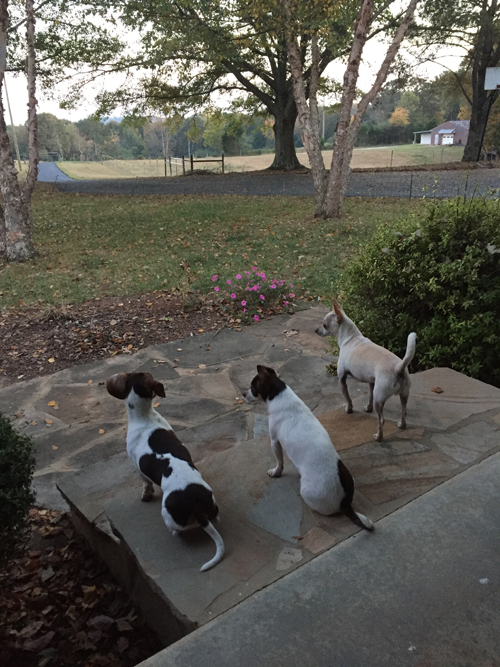 Mystic & Harvick boy!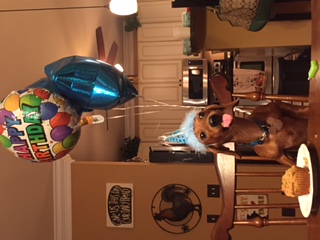 1st Birthday (Sasha & Reese) boy!!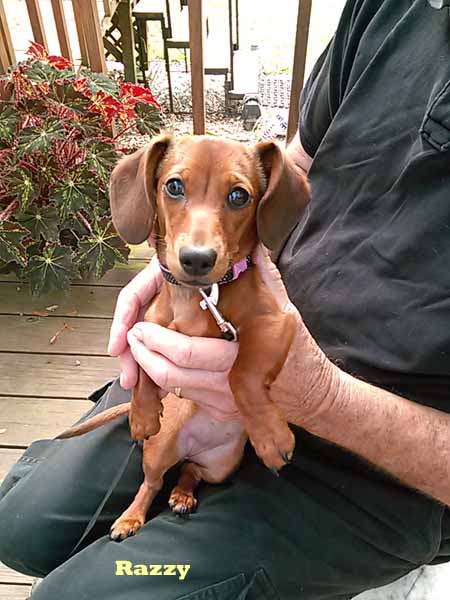 This is Razzy! She is a Sasha/Ash baby!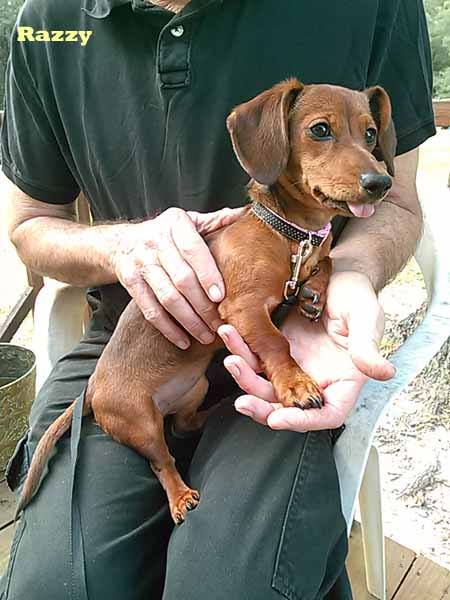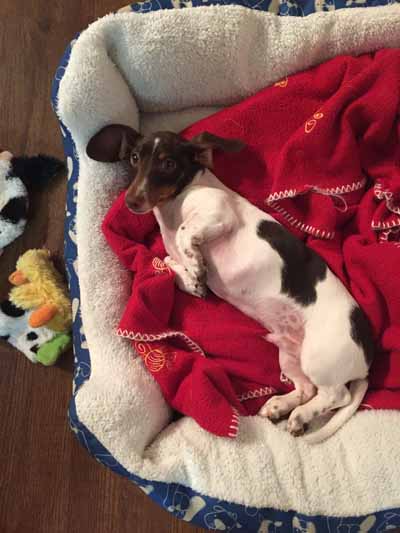 This is Chester! Handsom Choc/tan Piebald!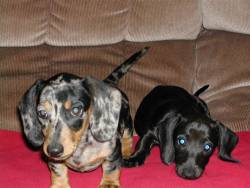 " MINNIE" (dapple) living with the Tess family in California !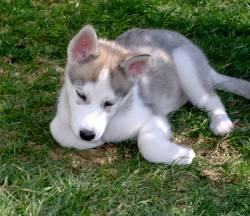 HALO taking it easy at his new home in California living with Amanda!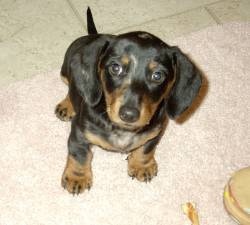 This is Minnie's sister Princess who is living with the Feehley family in Savannah GA!!!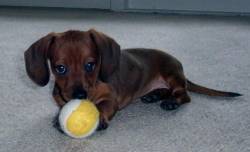 Lacy lives with the Jay family in Mississippi!!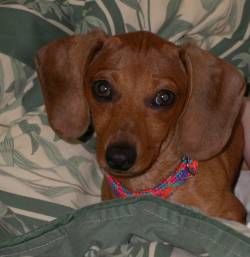 This is Savannah she lives with the Lamb family in Atlanta!!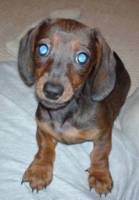 This is Pork she lives in New York with the Marvell family!!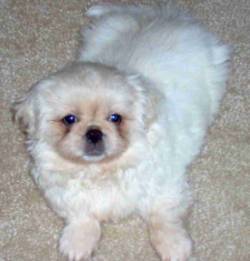 This is Dakota he lives in Texas with Christie!!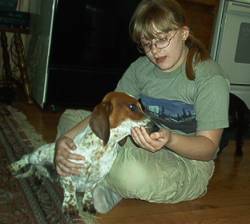 Speckles at his new home in PA living with the Grushinski family!!!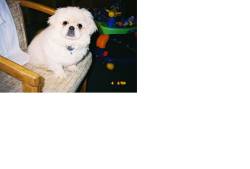 Hi my name is Sam and I live with the
McDaniel family in MS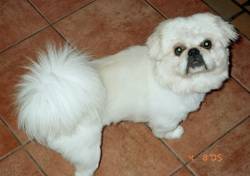 This is Sam at 15 months old !!
This is Pink who lives with Tiffany Brown!!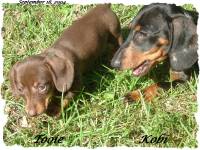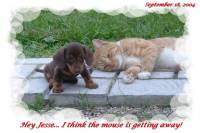 This is Tooie who know lives at Silver City Kennel with Tonya and her family!!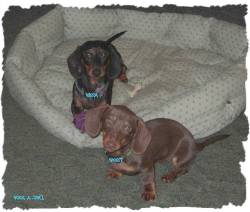 Tooie at a little over 4 months old !!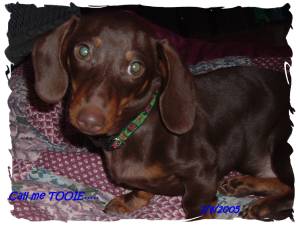 Tooie at a little over 6 months old !!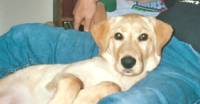 This is Maggie she lives in Alabama
with the McLeod family!!
This is Shadow who lives with Jerome!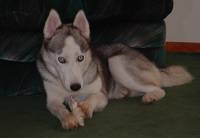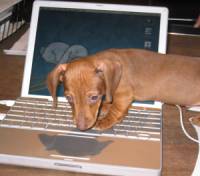 This is Pinto who lives in Oregon with the
Bannon family & his big sister BEE!!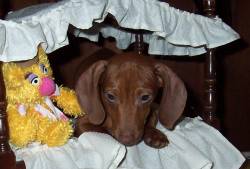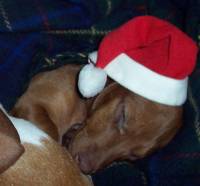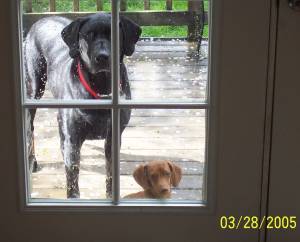 Pinto at 3.5 months old !! Pinto & Big sister Bee !!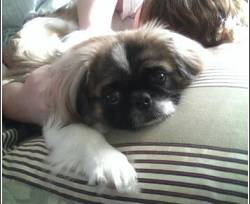 This is Dexter. He lives with Danielle & Jose Cordero in Jacksonville FL !!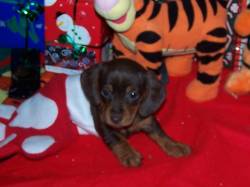 This is Lil Buck (Carrie & Sterling's baby)
She lives with Alicia & Nate in Savannah GA !!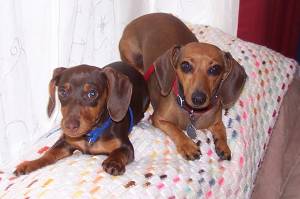 This is also Lil Buck !!
This is Barkley (10 wks old) who lives with David in FL (this is Sunny & Rebel's baby) !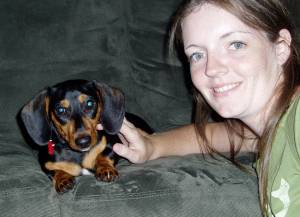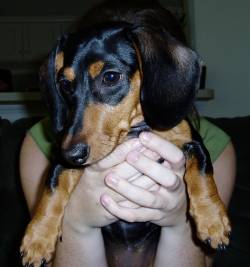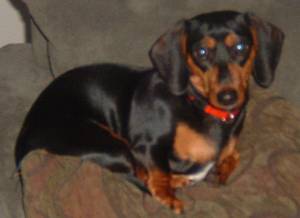 This is Bree !! (this picture was taken on her 1st birthday!!)
Brandi
I thought I would send you some pics of Bree - she turns 1 today!! I have a better one on my computer at home but this is a few months ago... I will send you the more recent one later. She has been the most fantastic dog - with the biggest personality I've ever seen. My husband and I never thought we could love anything this much - but we wouldn't have it any other way.
Thank you so much for bringing Bree to us!
Orla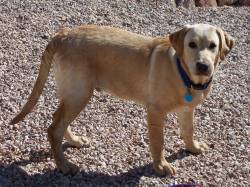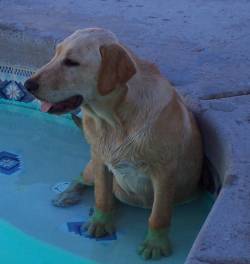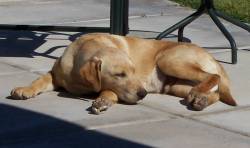 Stuart is Sunny & Rebel's baby that was born in Dec. 2004 He weighed 50 lbs at( 4.5 months old)
Stuart is doing great and we are really enjoying him. At his last vet
appointment he weighed 50lbs. He is going to be big!!
I took some pictures of him and attached them for you to see. One of his
favorite spots is on the top step of the pool. When we first got him we had
to watch him constantly around the pool because he was so little. But now
he swims very well and knows where the steps are so he can get out on his
own. He loves to fetch and we have been able to teach the basic sit, come,
stay commands. He is very well tempered and we are really enjoying having
him.
Hope you enjoy the pictures....Thank you again.
Laura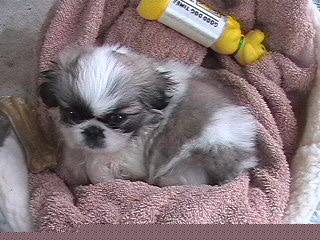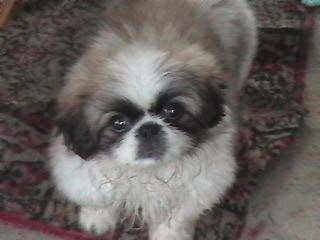 This is Sable!!
She lives with the Roberts family. (Rover & Pepper's little girl)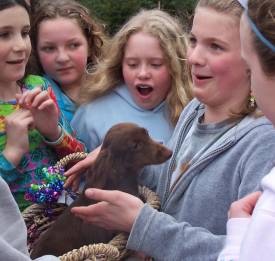 Finally I have for you the picture of Smores aka "CoCo" when she was given to my daughter Bonnie for her 11th birthday.
Two months have passed now and CoCo is beloved by Bonnie, her softball team, and everyone she meets. She is a wonderful, smart, sweet dog!
I'll send another photo of CoCo when she's a little older.
Thanks again,
Melissa H. Branch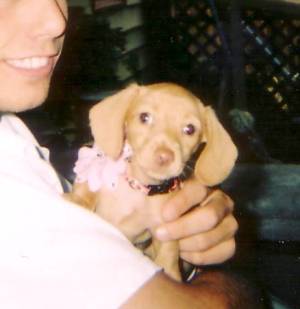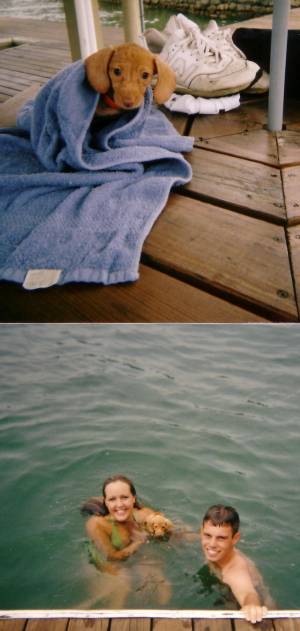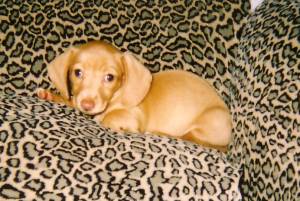 This is Lucy !! She lives with Kelly in Virginia !
(mitzi & boagie's little girl)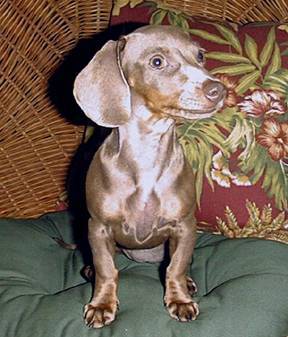 This is Edelweiss !! She lives with the Doderick family !
Isn't she beautiful !!
Her parent's are Sterling & Brooke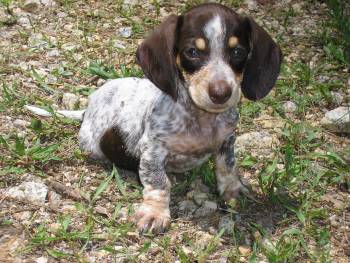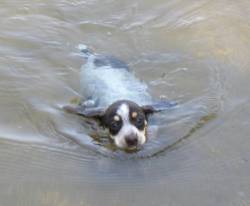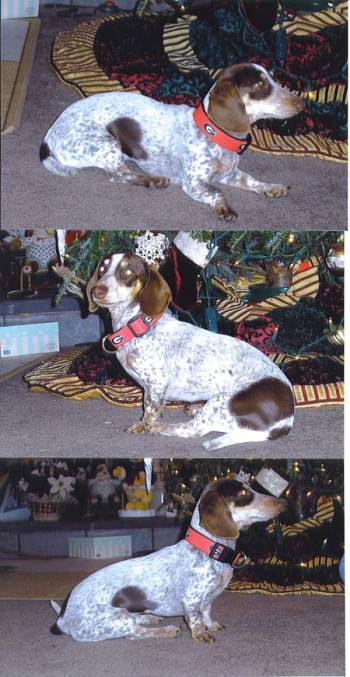 THIS IS GEORGIA !! SHE LIVES WITH THE MILLER FAMILY !!
Her parents are Inka & Bruiser !!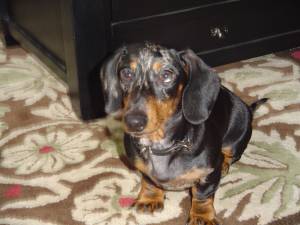 This is SPIKE. He lives in Virginia with Beth and her family !!
This is Skittles & Boagie's little boy.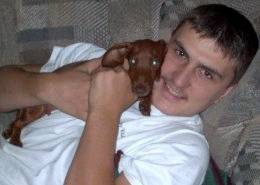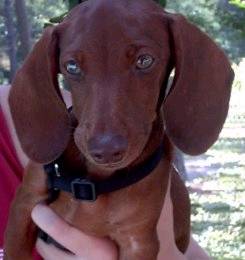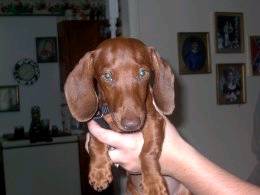 This is " SPORT "
His new name is Roscoe.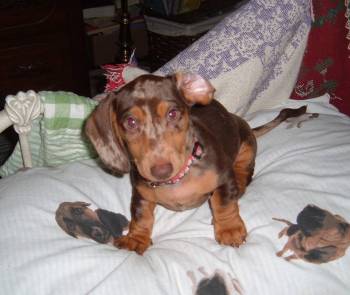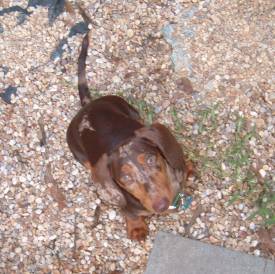 This is " Riley "
She lives with Becky & family !!
(Boagie & Daisys pup)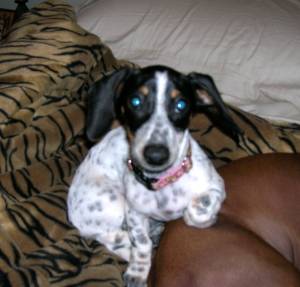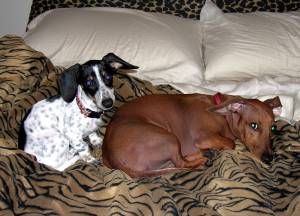 This is Inka & Bruisers little girl !!
hello brandi,
this is john donkar and athena mellas sending you some pics of Kayden Donkar our black and tan piebald
female that we purchsed from you about 5 weeks ago. She is a great puppy, a fast learner and sweet.
We are extremely happy with our purchase and she has made a great addition to our family.
Also Lainey our other red min dachshund loves her too. Thank you again and we will send you pics
when she is a year old. She is only 5.0lbs right now and the vet says that she won't get much bigger.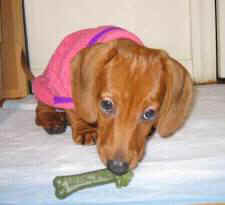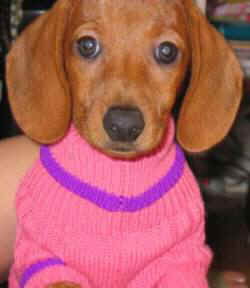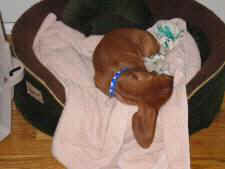 This is Tippy !! He lives with Maggie in New York !
This is Pickle & Luckys little boy !!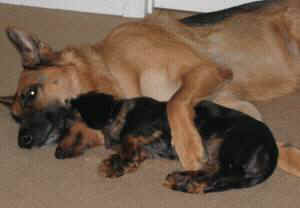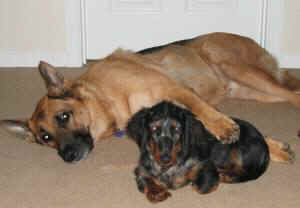 This is Louis and his big brother Norman !
Louis (the dachshund) is Daisy & Boagies puppy !
They live with Melanie in Ohio !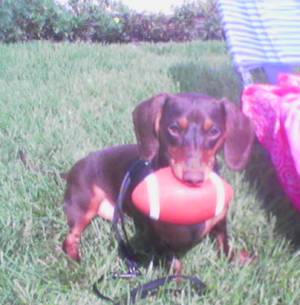 This is Manolo. He lives in New York.
This is Inka & Sterling boy!!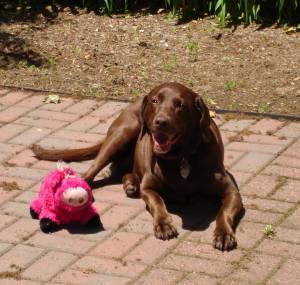 THIS IS ANABELLE !!
SHE LIVES WITH JULIE WILLIAMS !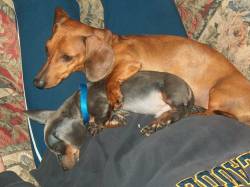 THIS IS BROOKE & STERLINGS LITTLE BOY !!
HE LIVES WITH SANDY, JEFF & SADIE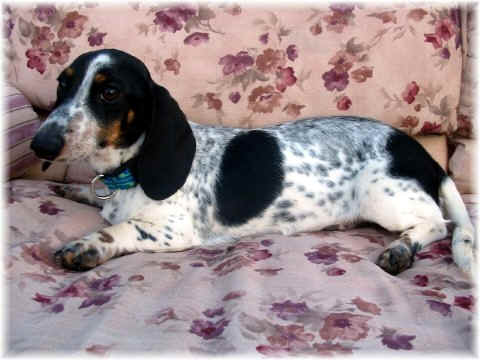 This is Bruiser & Inkas boy !!
Hi Brandi...just wanted to let you know the pup is doing good. We named him freckles. He is sleeping on my lap right now, but has been playing with my youngest girl Dolly...they seem to hit it off right away. I thank you so much for letting him come to live with us. He will be well cared for and spoiled to perfection. I will keep in touch and get his papers after Christmas...thanks a bunch.
Cindy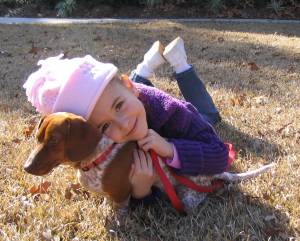 This is Charlie !! (Bandit & Pumpkins boy)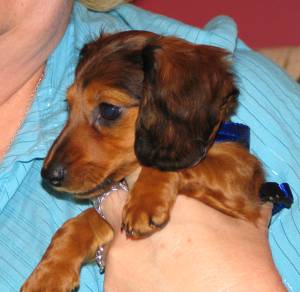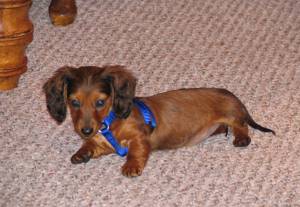 This is Izzi. Rosey & Bandit are her parents!!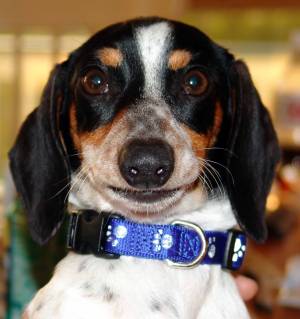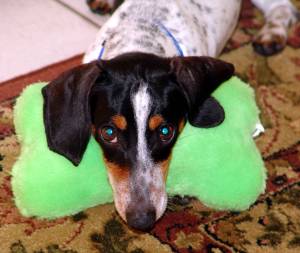 This is Buddy !! Inka & Bruisers little boy !
He lives in Flordia with the Droste family !!
Butter & Sterlings boy !!

These 2 boys have went to live with

Jordon & Baylor Sims !!

Brock & Isabells little guy !!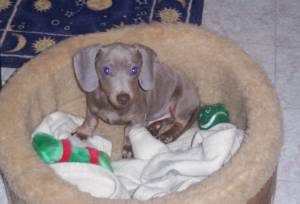 This is OZ. Sterling & Brooks little boy! He lives in NC with Mary !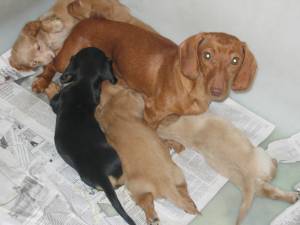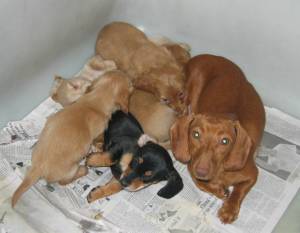 This is SUGAR with her new babies. Sugar is Butter & Boagies little girl !
SUGAR now lives in Nova Scotia Canada with Cathy !!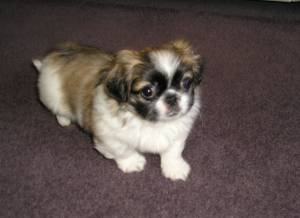 This is Rover & Carla's little girl !!
Hi Brandi, Lilly is doing great. Loves her new friend Bailey and she's
working on her house breaking. She is very independent and determined to
keep up with Bailey. She's a little dog who can hold her own. She makes
me laugh everyday and I am enjoying her very much. She's very well
behaved. Thank you so much. I will send a few pictures in another email.
Again thank you, Wendy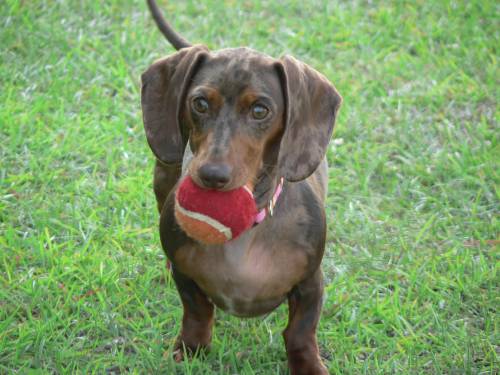 GINGER
Hey Brandi,
I'm sending you a picture of our little dapple dachshund Ginger. We got her about this time last year. She is one of Boagie and Daisy's puppies. We just celebrated her 1st birthday. She's a wonderful dog with lots of energy, who craves attention. She is the "queen" of our house (or atleast she thinks she is). And as you can see from the picture, she loves to play fetch. She has been a great addition to our family.
Brandi and Noel
Here's an updated picture of Lucy. She is 4 months old now and is doing well. She has an adorable personality. I think that she believes she is the "queen of the house."
Rhonda Anderson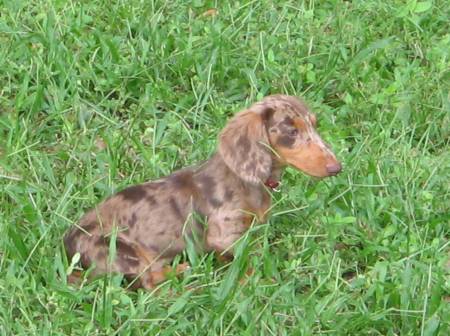 THIS IS ALFIE !!
HE IS DAISY & BOAGIES LITTLE BOY !!
THIS IS BUBBY (BROCK & BERKLEY'S LITTLE BOY)
HE LIVES WITH KATHY AND HER FAMILY !!
Brooke & Pluto's little Blue & Tan boy
He lives with Angela !!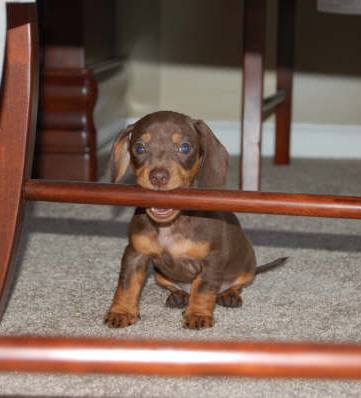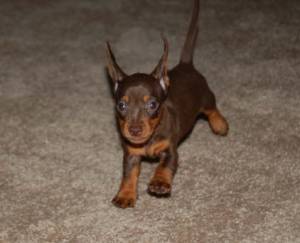 THIS IS BROOKE & PLUTO'S LITTLE GIRL NAMED BAILEN !!
SHE LIVES WITH THE GIBSON FAMILY !!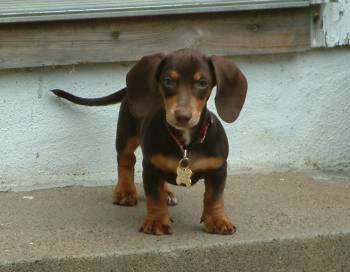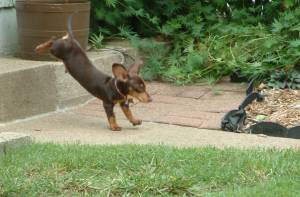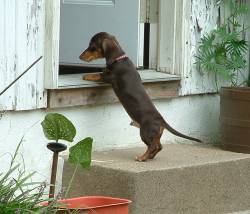 Reese Ray Jones --proud parents Tilford & Nina Jones Evansville, IN
(Berkley & Brock's little boy!)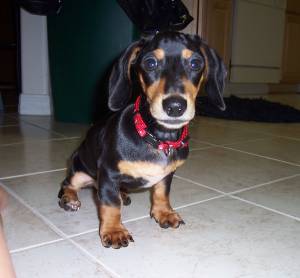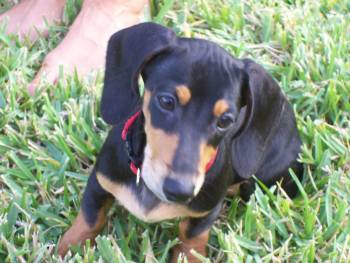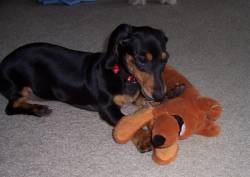 (Berkley & Brock's little boy!)
This is our sweet baby Guinness. He is one of Berkley and Brocks babies. We have had him for a month now and he is just been the best baby in the world. We could not have asked for a better puppy. I thought I would send you some pictures of him at his new home with us in Florida so you could see how he is growing.
Brinkley is a red piebald male out of Pluto & Pumpkin !!
Brandi,
We were sorry to miss you the day we came to pick up the puppy-("Brinkley").
It was a pleasure meeting Peyton, and he was very helpful. I just wanted to drop a line, to let you know "Brinkley" is a joy and everyone loves him. He is now 11 weeks and doing great, he is so popular that at the groomers in Richmond Hill "Hoof and Woof",
They wanted his photo for their boutique.
Brinkley is a wonderful addition to our family and will be for years to come.
Thank you again…
Susan and Lannie Richardson
Richmond Hill, Georgia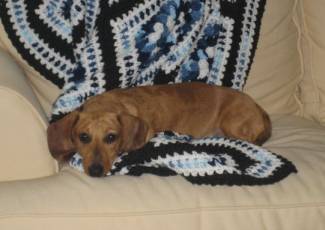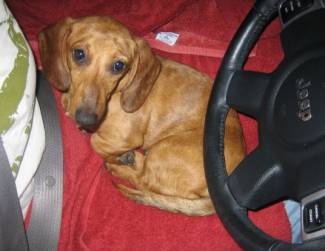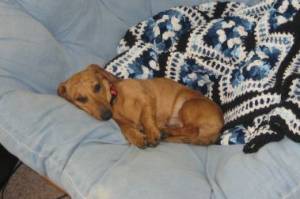 This is Match !! Pickle & Isabells little boy !!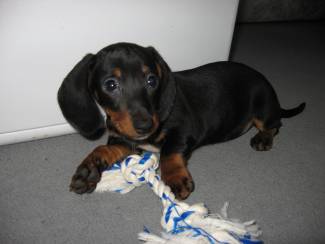 (ISABELL & BROCK'S LITTLE GIRL)
Hi, Brandi
Just wanted to give you a little report from Salty. She is doing very well. She is sweet and she can also be saucy – I love her!! The "potty" training is going great; she likes her little crate/kennel, but does not like to be left alone at night. Still, she's only waking up 2X a night.
The Vet in Rincon gave her a good bill of health, and did not give her any additional shots. He recommended we take her to our local Vet within 7-10 days, so she is going for a visit on Friday of this week.
I thought you might like to see her latest photo………. if it's possible, I think she has actually grown since we picked her up last Friday!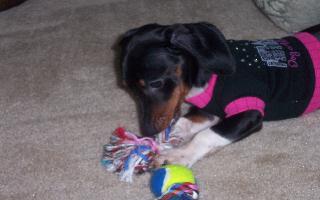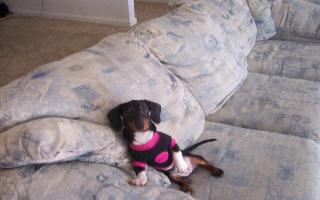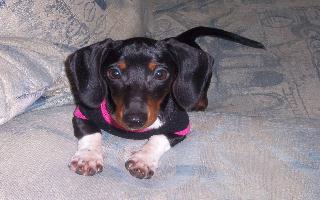 THIS IS MANDI AND SHE LIVES WITH THE Gather FAMILY IN TENNESSE.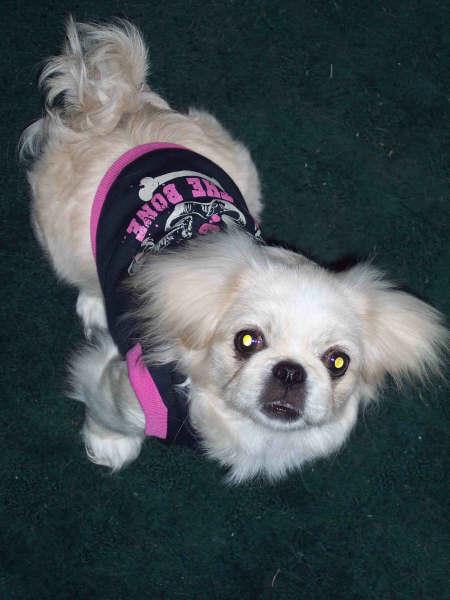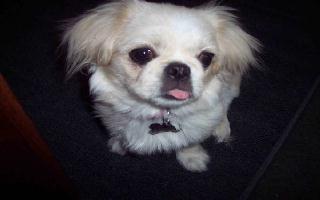 This is Crystal she lives with the Huntoon family !!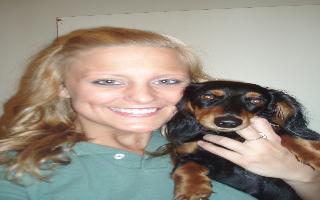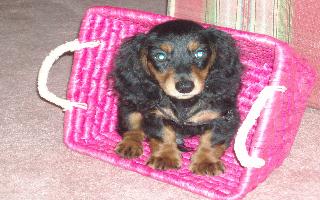 This is Tinsley!!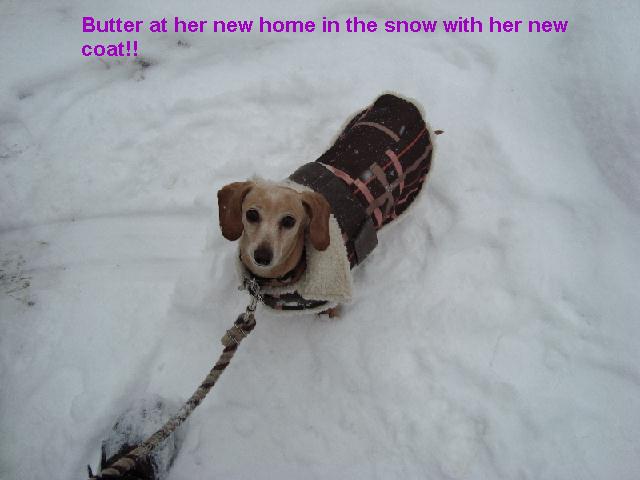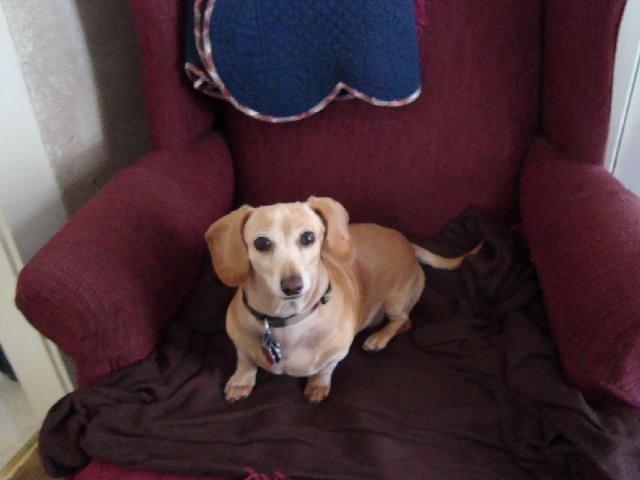 Butter with her new mom!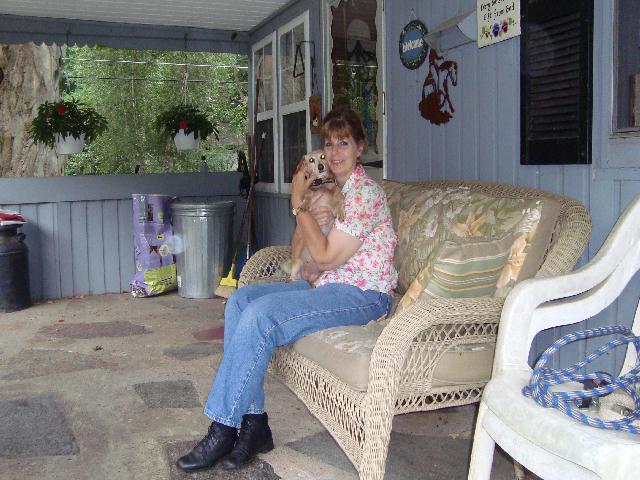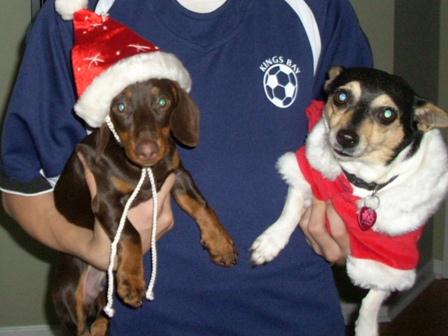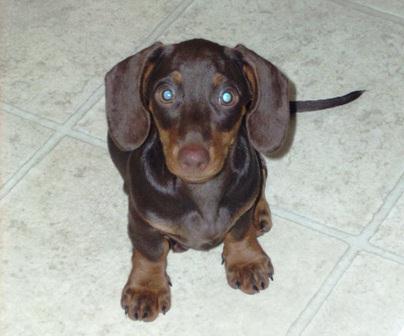 Chipper is Sugar & Spence's son !! (chocolate/tan dachshund)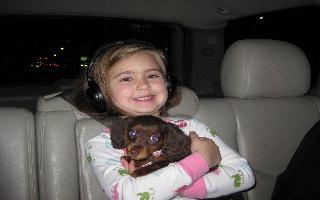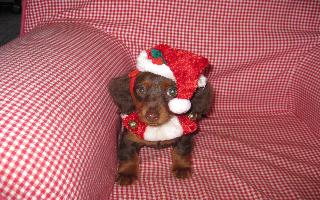 Hi Brandi-
I just wanted to send you some recent pictures of our Scarlett. We are really enjoying life with her and she is becoming very spoiled, as you can see. She has a great temperament and is a very happy puppy. She does become feisty and sassy at times, but it's very cute on her. She loves cuddling on the couch under a blanket after a long day of chasing our 15 pound cat around the backyard. J Thanks again for bringing her into our lives. She's very special to us. I'll send more pictures soon.
Jason, Tracey, and Elizabeth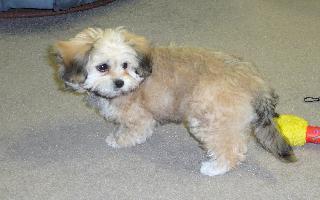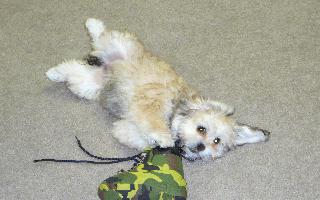 This is Katie a Peek a Poo !
She lives with the Reddings !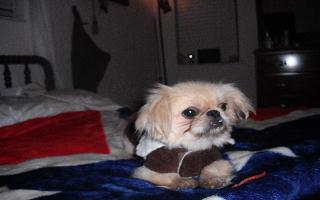 THIS IS BO BO AT HIS NEW HOME !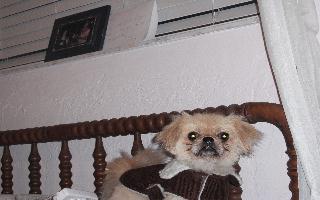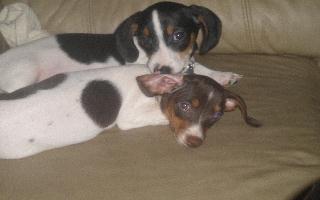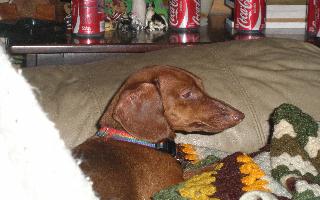 THIS IS SOME OF BRETT & JERRYS BABIES THEY GOT FROM US !!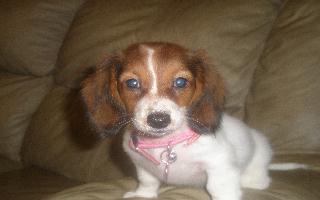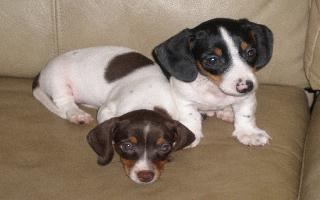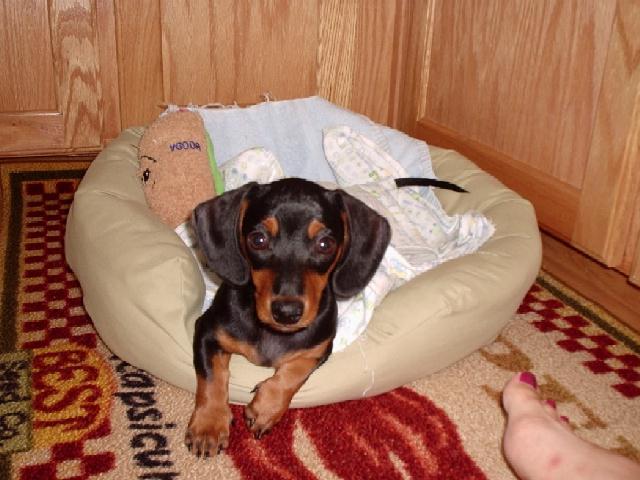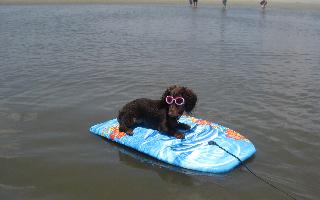 Here are some recent pictures of Scarlett at the beach on St. Simons. She wasn't crazy about the water, but loved chasing the birds and other dogs. She is about 6 pounds now and is spoiled rotten. She sleeps under the covers in our bed every night and goes for rides in the golf cart almost every day. She is such a sweet dog; we really enjoy having her in the family.
Tracey Rogers
Hello Brandi:
Salty Dog is now 2 years and 8 months old....she's turned out to be a delightful member of the family....spunky, lively, loves to run, and has a gentle and sweet personality....here's a picture taken last weekend of Salty with grand daughter Morgan.
Be well,
Dick and Jo Wall
Tallahassee FL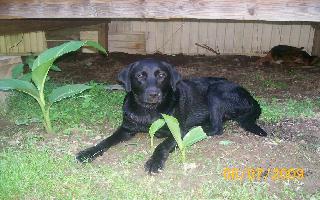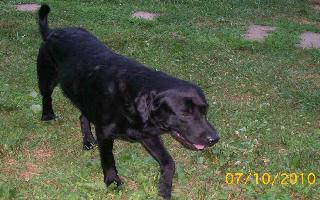 THIS IS ZEAK ONE OF GINGER & RANGERS BABIES!!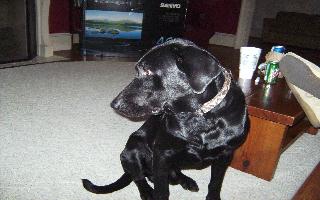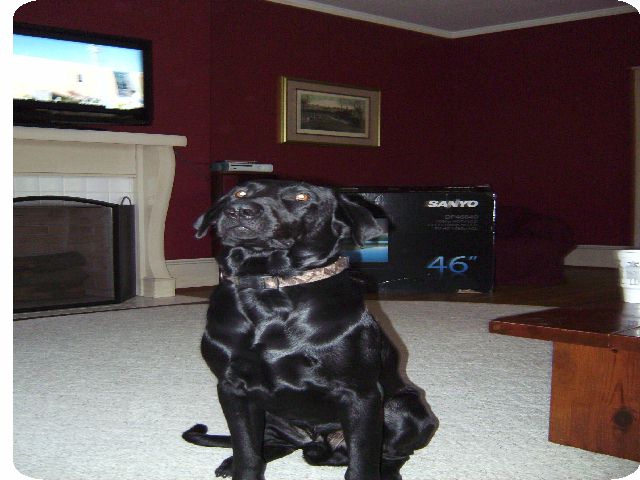 This is one of Ranger & Ginger's boys born in April 2008!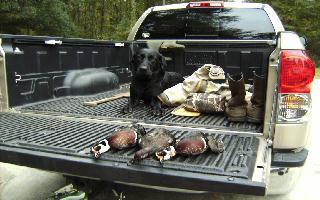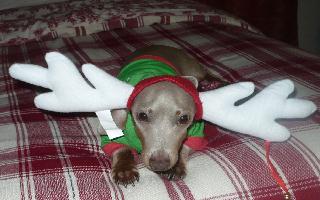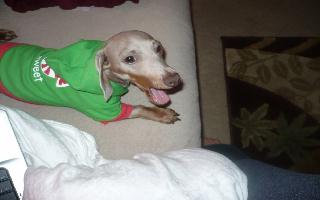 This is Bridgett & Reese's little Isabella/tan boy !!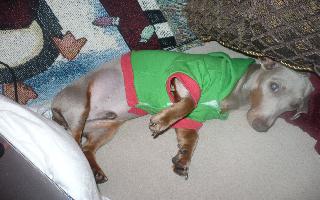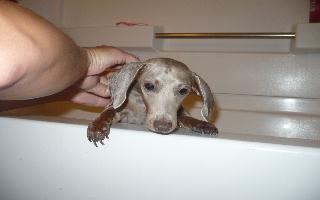 This beautiful girl is one of Ginger & Ranger's babies. She lives with John L. Alexander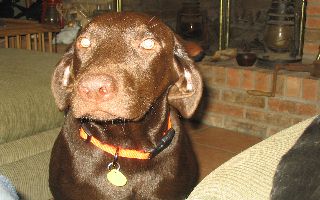 Hi Zeaglers,
Georgia is doing really well for her age. 2 y 11 months now. She has her CD in akc OB; she has 2 Passes in HRC Finished level, needs 2 more for her CH there; she has 3 Passes in AKC Master Hunter, needs 3 more for title there, and would also qualify her for the Nationals this fall (6). We will be running March 19 at Thomasville, Ga trying for her 4th. April 15 we'll be at Perry, Ga for the Valdosta Kennel Club OB trials. She do her first leg of the OPEN A level, then on to Rembert, SC for another Master test that saturday and sunday.
How is Ranger doing and Ginger? Here are a couple of pics of GA. take care, John Alexander
--
John L. Alexander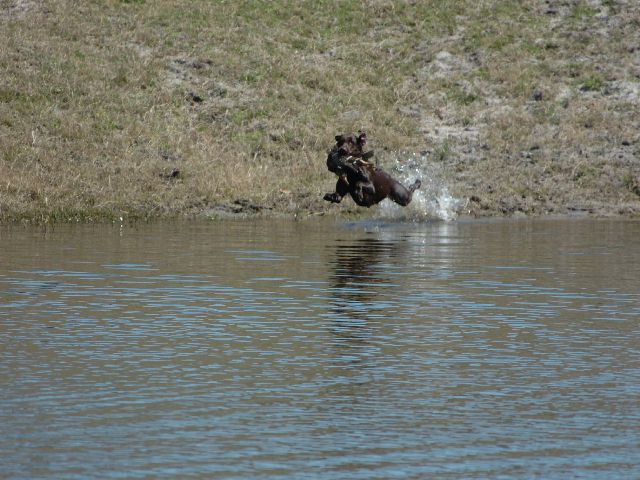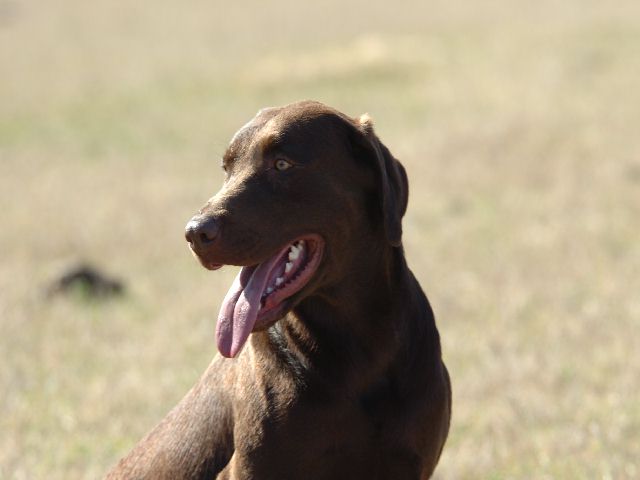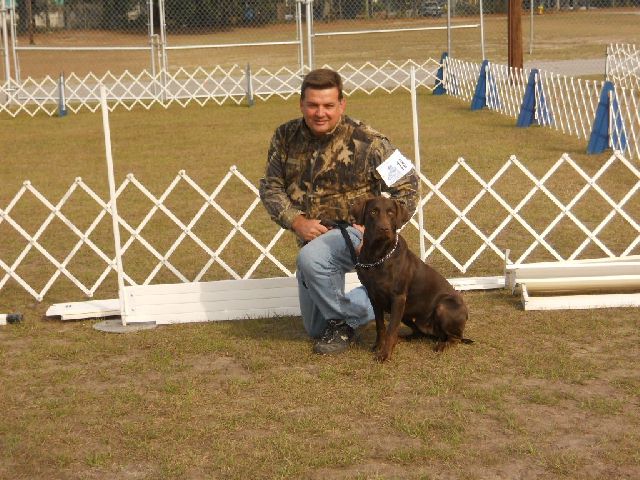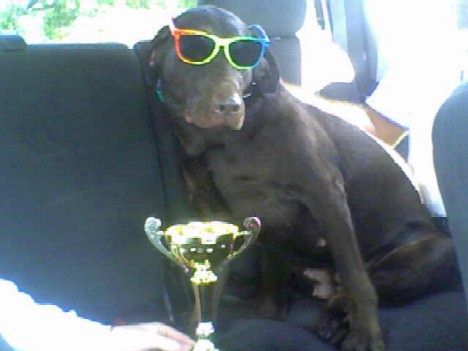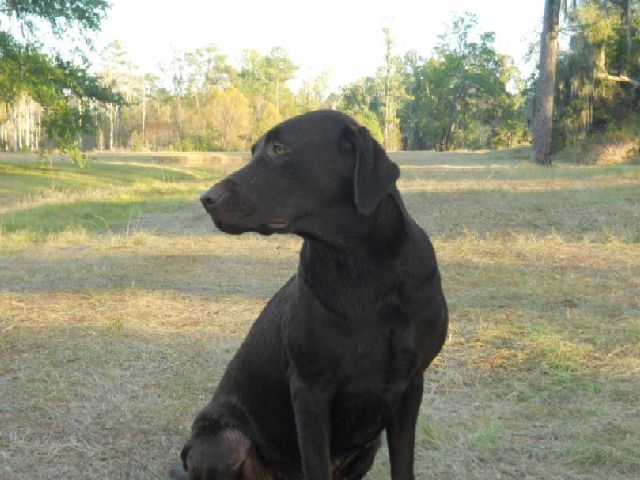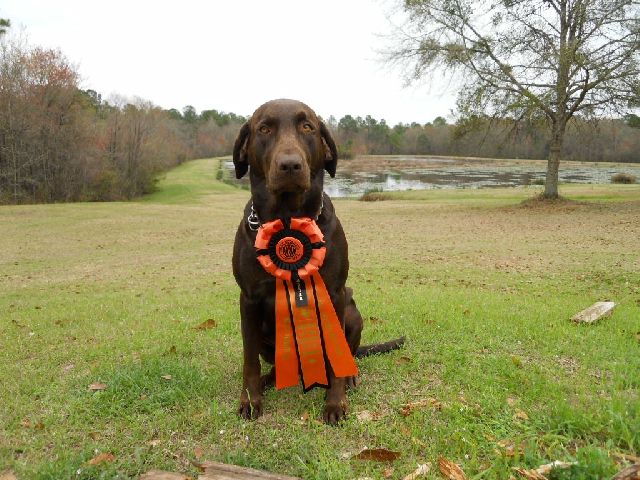 This is Kaylie. Sterling & Smores are her parents !!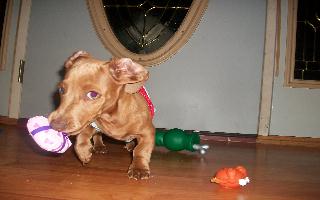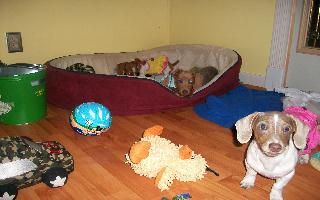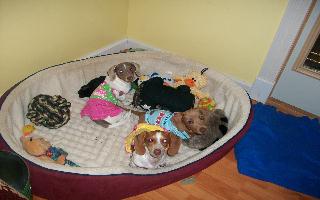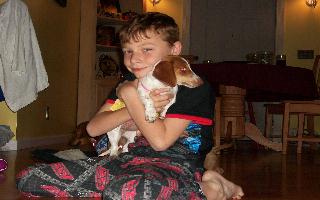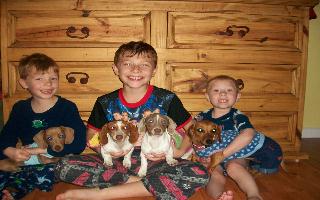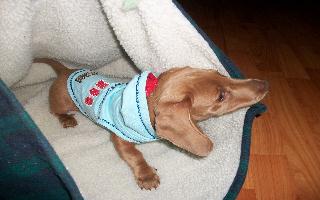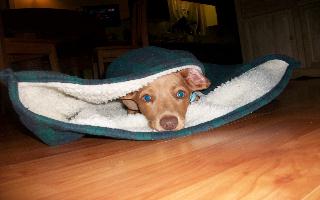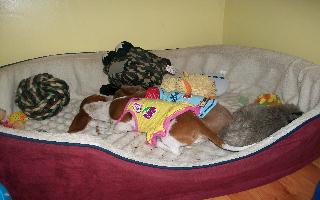 Chocolate Based Red - Sage & Sterling's son
Dilute Red Piebald with Cream - Smores & Corky's daughter
Issabella/tan Piebald - Cookie & Reese's daughter
Thanks So Much
The DeLoach Family
Andrew, Terra, Kameron, Tanner, and Chase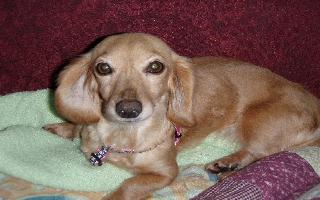 This is Nilla at her new home!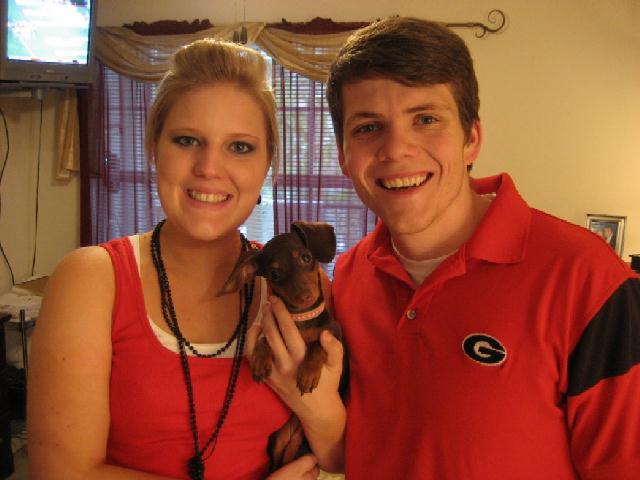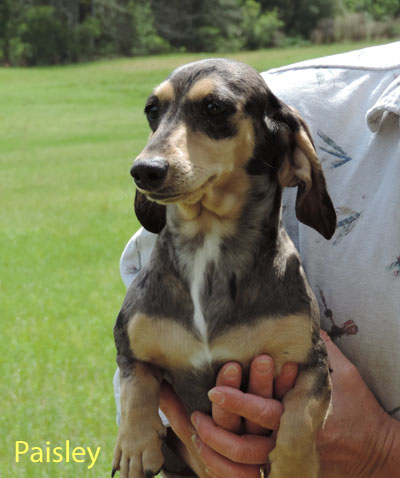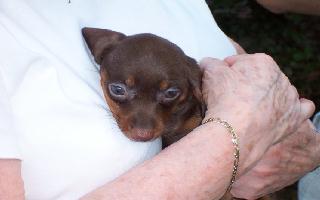 Hi Brandi, this is Tyler & Heather.
I just wanted to write to you and tell you how much we are enjoying our puppy. Her name is Paisley and although we've only had her a few days, she is really doing awesome here in her new home. My family all love her and Heather and I are having a blast (minus potty trips in the night...). She seems to be a great dog and her personality is already showing so much!
Attached are some pictures showing what all she's been doing around here. I hope you enjoy them and thanks again for everythin

g!



Marley & Charlie's little girl!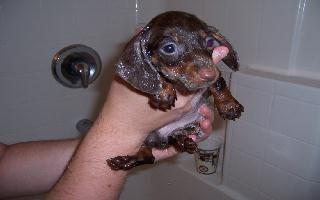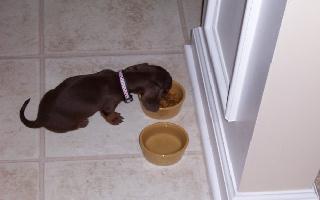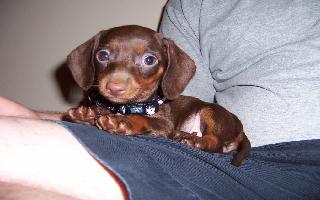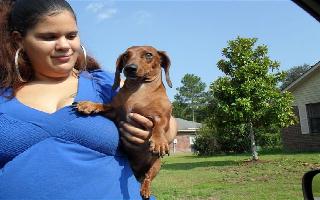 This is one of our little guys at his new home!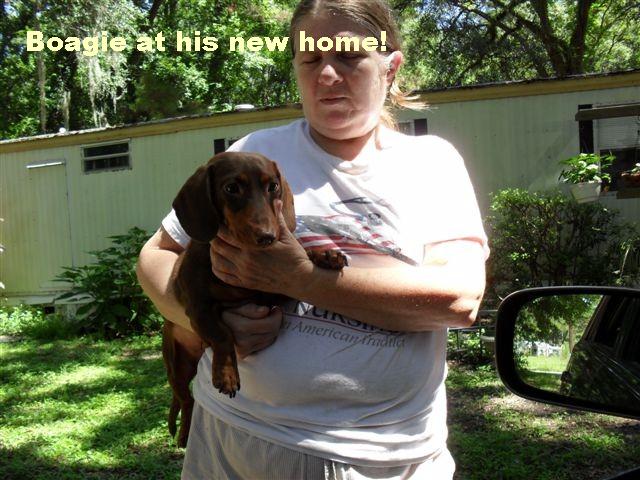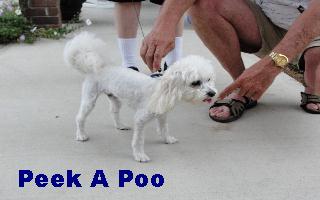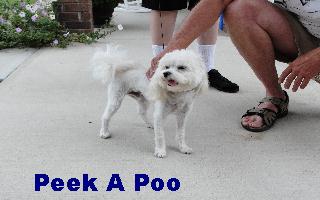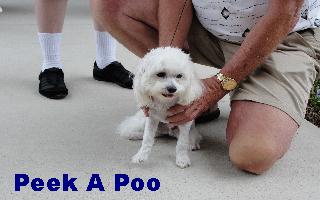 This is one of our Peek A Poo babies that came back to visit us one day. He is so cute in his summer haircut & he had the sweetest personality!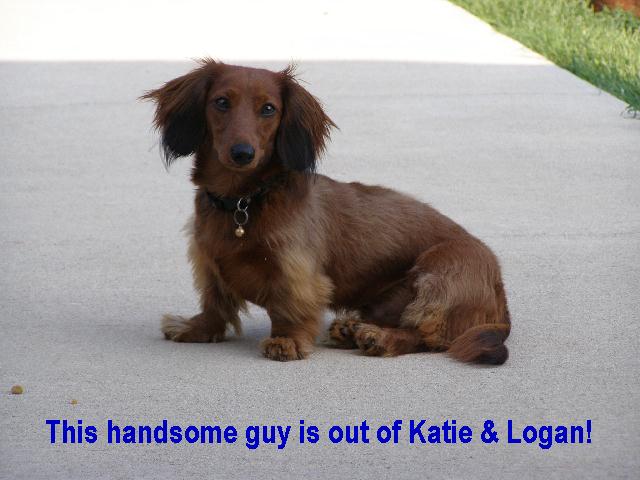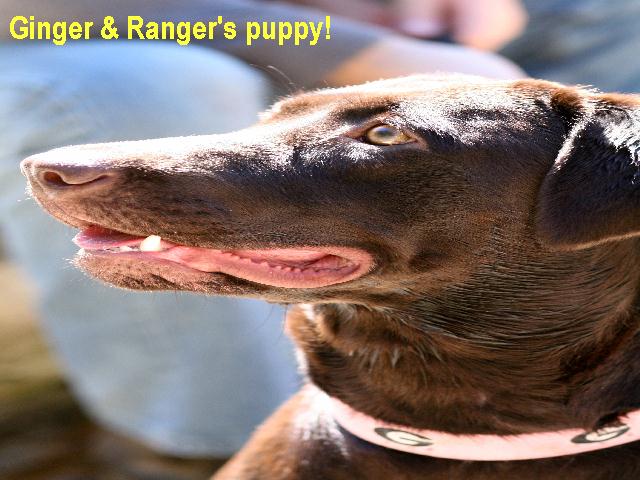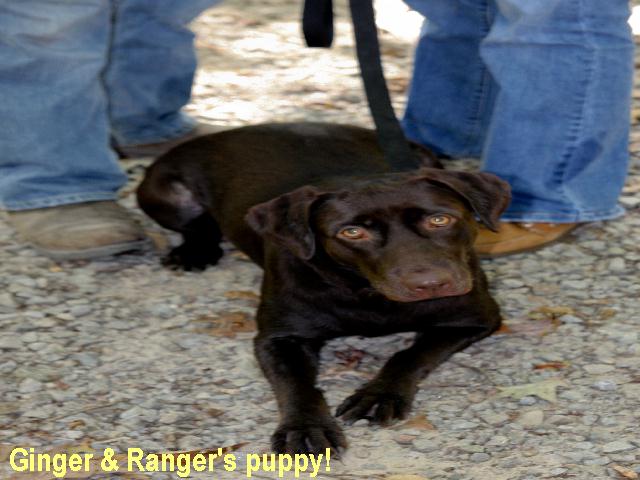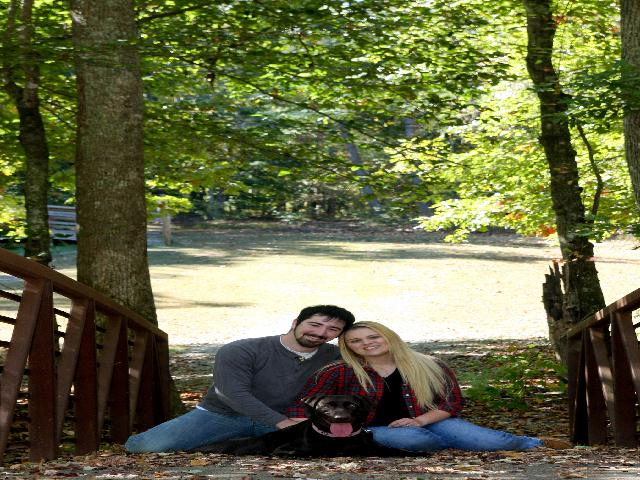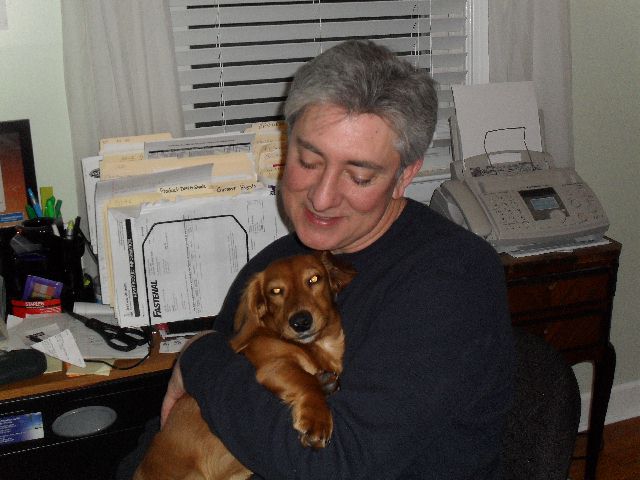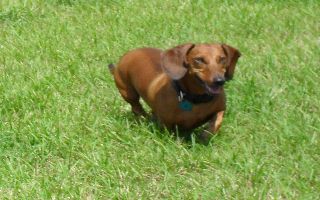 Hi Brandi!
I wanted to let you know how Romeo is doing. You were absolutely right when you said he was going to be a lover! We adore him. Our other doxie Rosco has really enjoyed having him around. We didn't realize how lonely he was after loosing Frankie. I am attaching a few photos of them for you.
They are both healthy happy dogs and we are grateful to you for them!
Liz Munn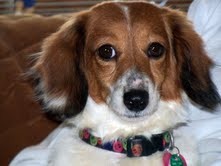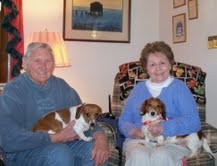 Sassy with her new family Kenneth and Charlotte Upton .
Hi Brandi-
Hope all is well. I just wanted to send along a few pictures of Angel and let you know that she is doing great and I just adore her! I know I told you before but I couldn't have asked for a better puppy!
Lauren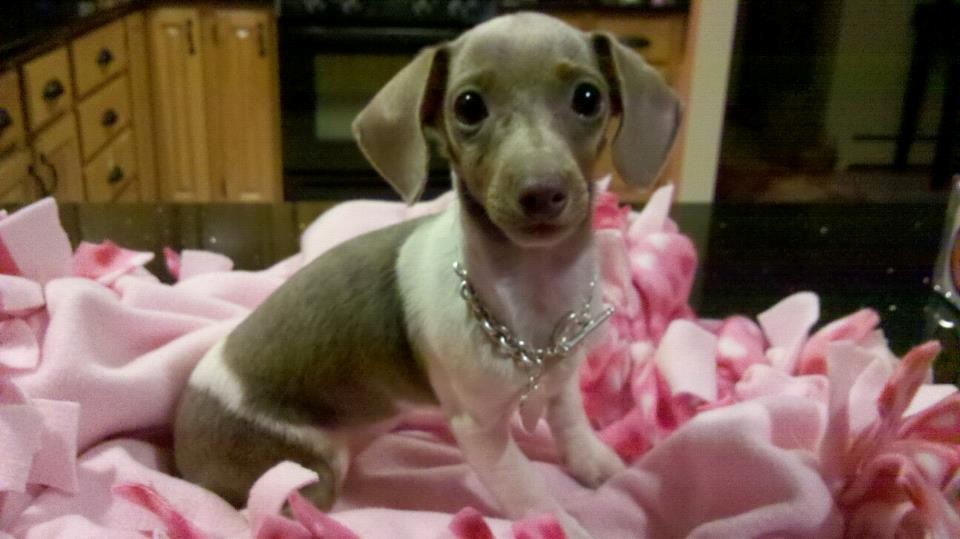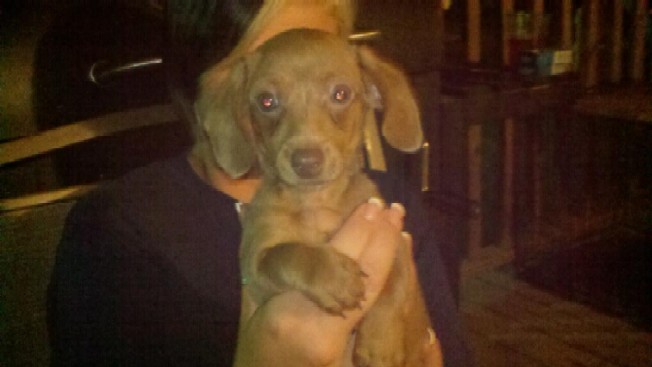 This little girl lives with Travis & Becky Morgan! She is Ruby & Harvick's little girl!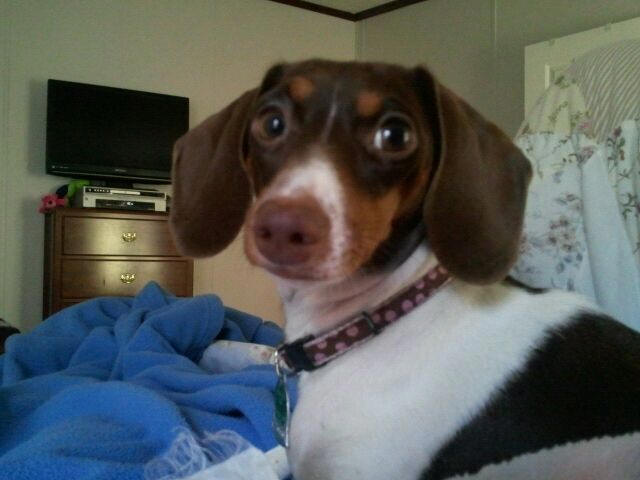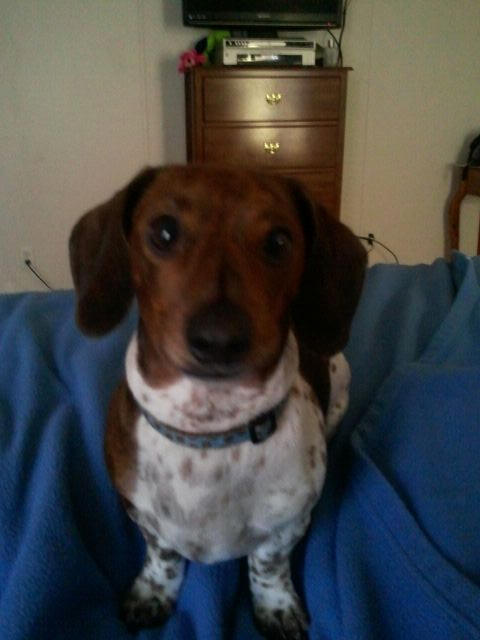 This is Rosscoman and Dollee anne! They live with the Tucker family!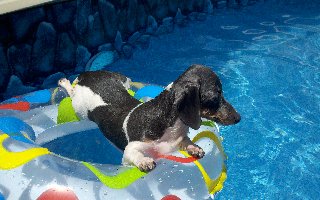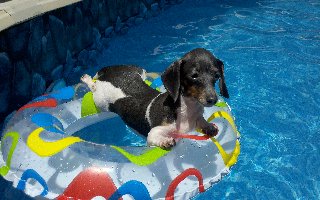 This little Blue/tan Piebald girl is Ruby & Harvick's baby!
Hey brandi. Here is the puppy you bottle fed. All i can say is ROTTEN. She is just like a little baby. When she is sleepy she wants to snuggle inside my shirt. I have never had a dog this spoiled.
She loved chillin in the pool. She only weighs 4 pounds.
We love her.
Shannon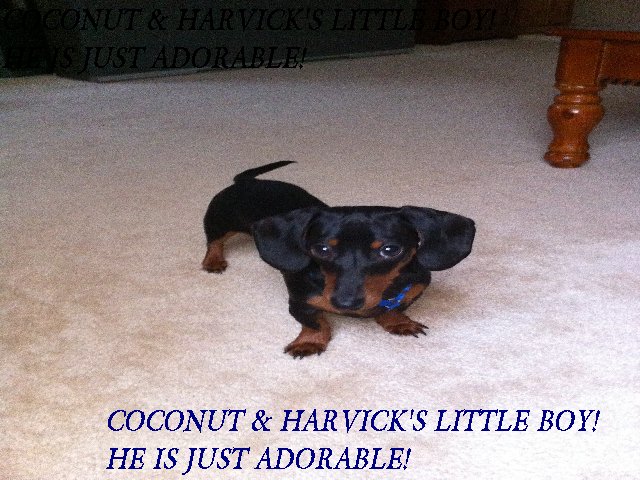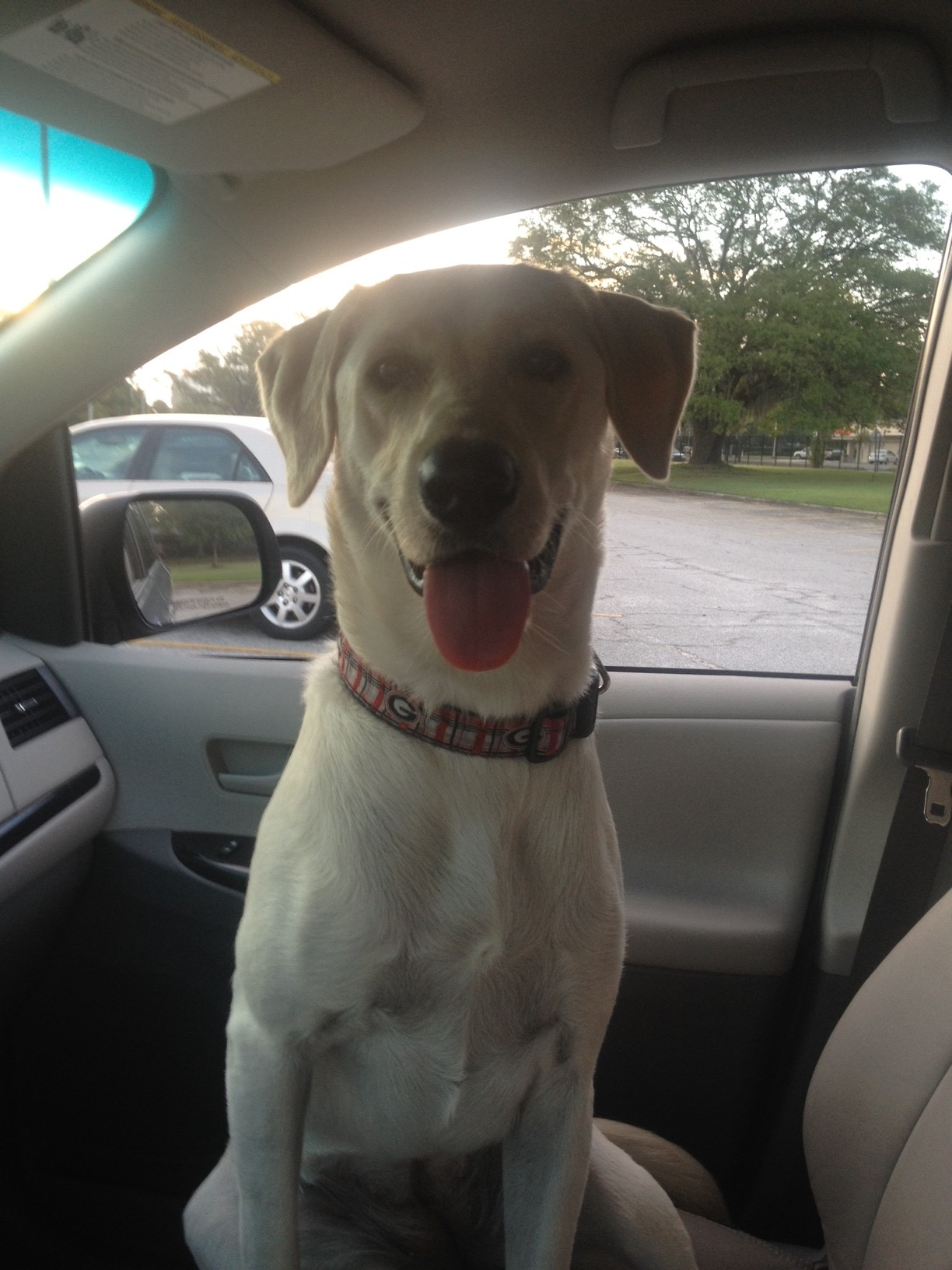 Scarlett & Magic (Lab) puppy!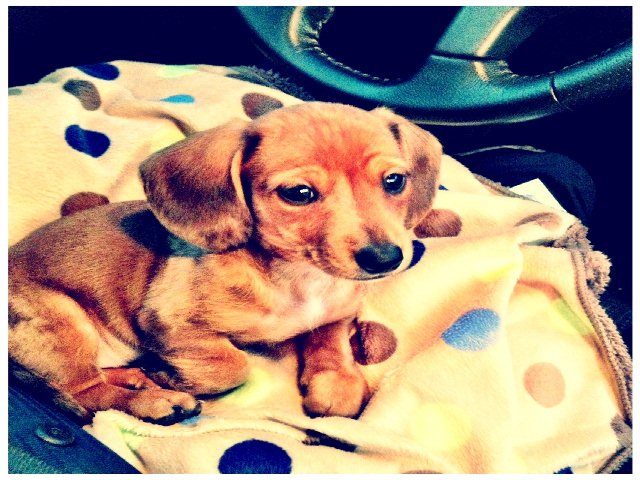 Ash & Aspen's little boy!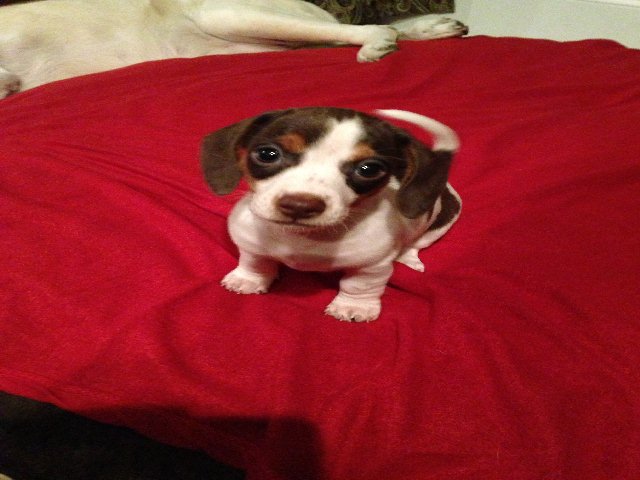 This is Shiloh & Reese's little choc/tan piebald female! She now lives with Helen!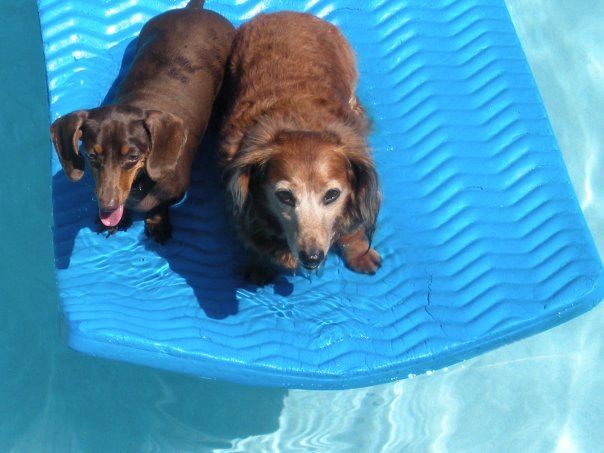 The Choc/tan is one of our guys! His name is Cooper!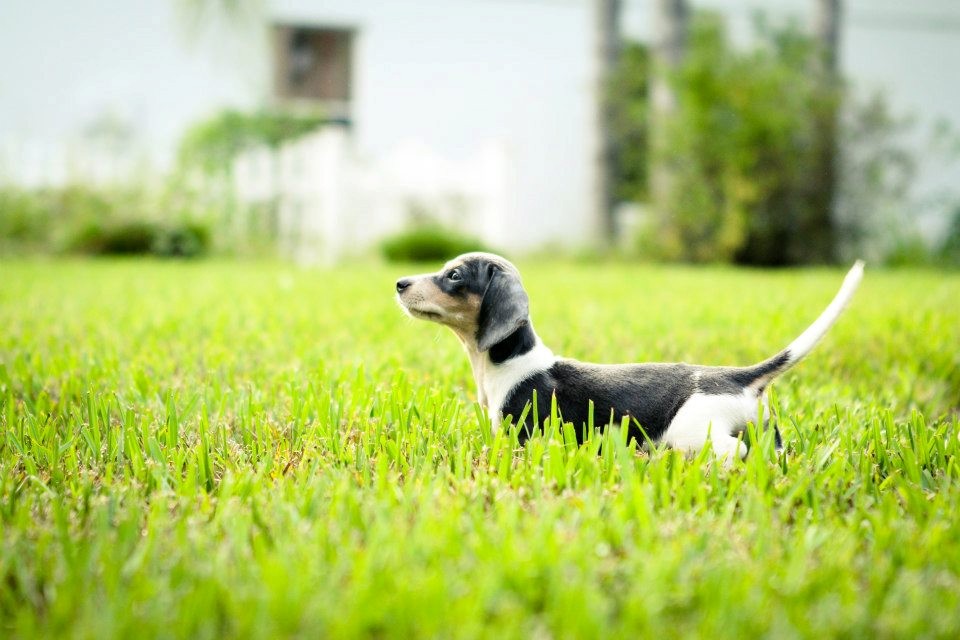 This is a Sprite & Reese puppy! He is Blue/tan Piebald!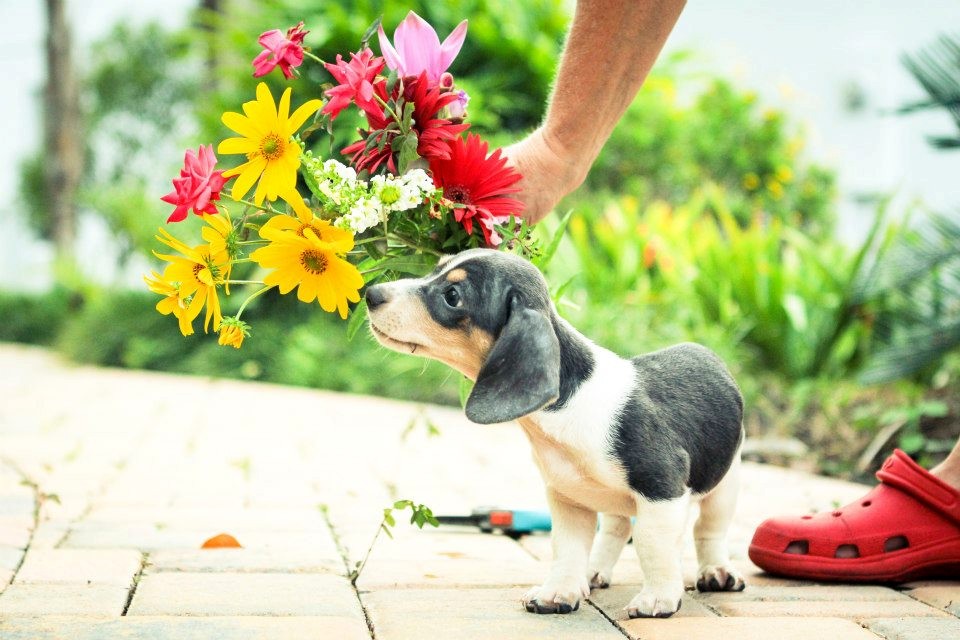 Hi Brandi,
I wanted to email you a couple pictures of Pedro from a couple of weeks ago. Since then he has grown SO much that we just can't believe it. He had his 12 week shots last week and was 5 lbs 2 oz! He's on a steady diet of Nutro Ultra puppy food and his coat looks just beautiful. He is honestly the best looking Dachshund that we've ever seen and everywhere we go, no one can believe how unique and beautiful he is. Potty training is still a huge challenge, but we're making progress.
Mark Sawyer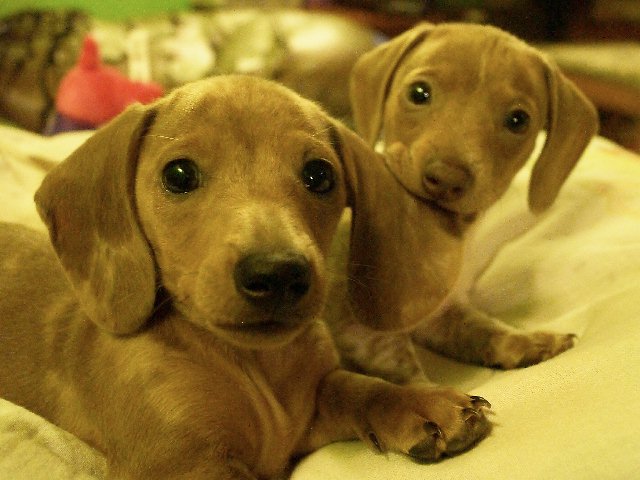 This is Max (Aspen & Ash's son) & Ruby (Peckles and Harvick's little girl)!
They are too cute!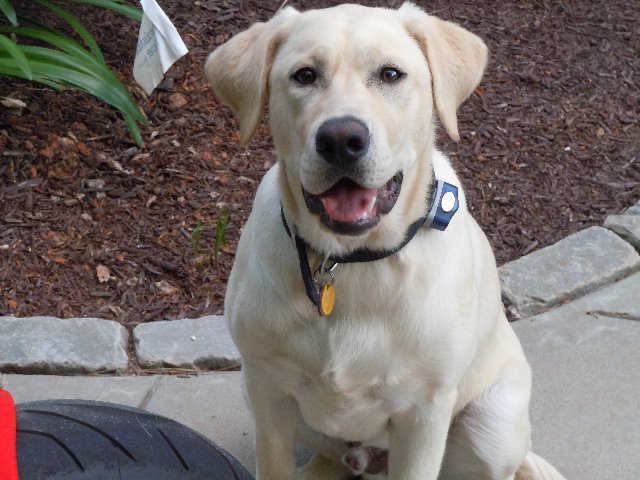 This is Bubba! He is one of Magic & Scarlett's sons. He is still a puppy in these pics.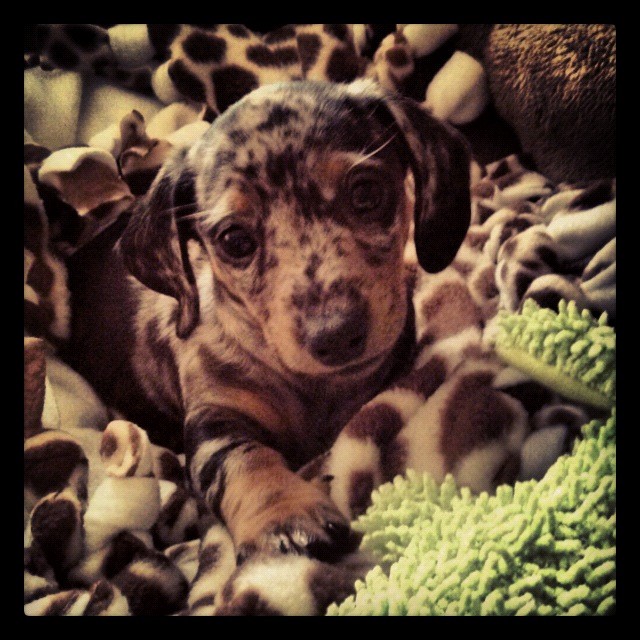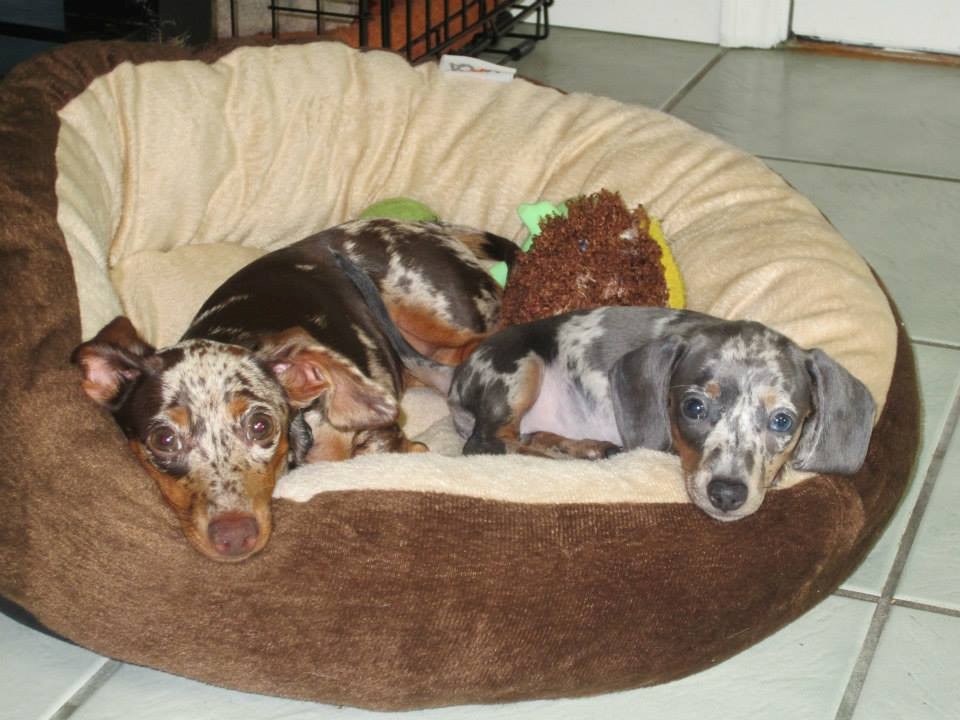 These are 2 beautiful girls!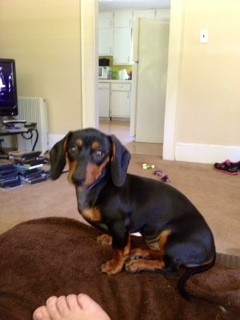 This is Rain & Charlie's little girl!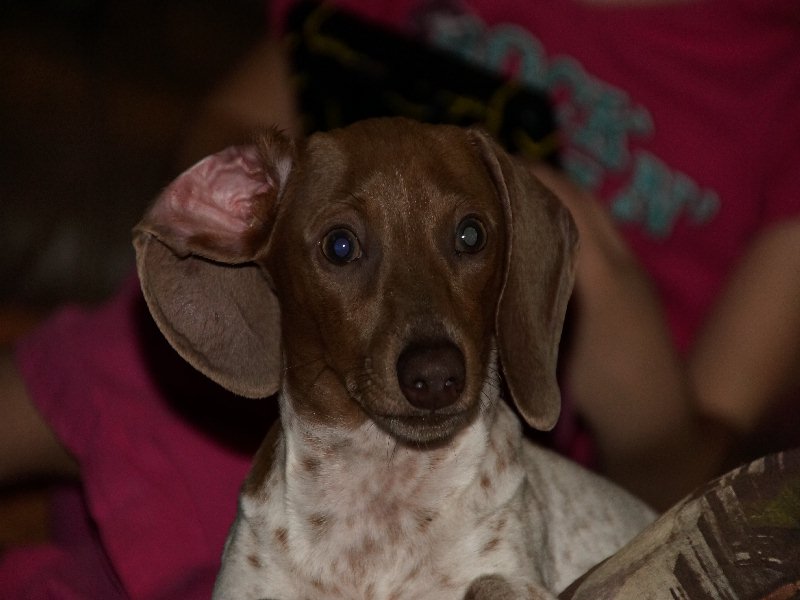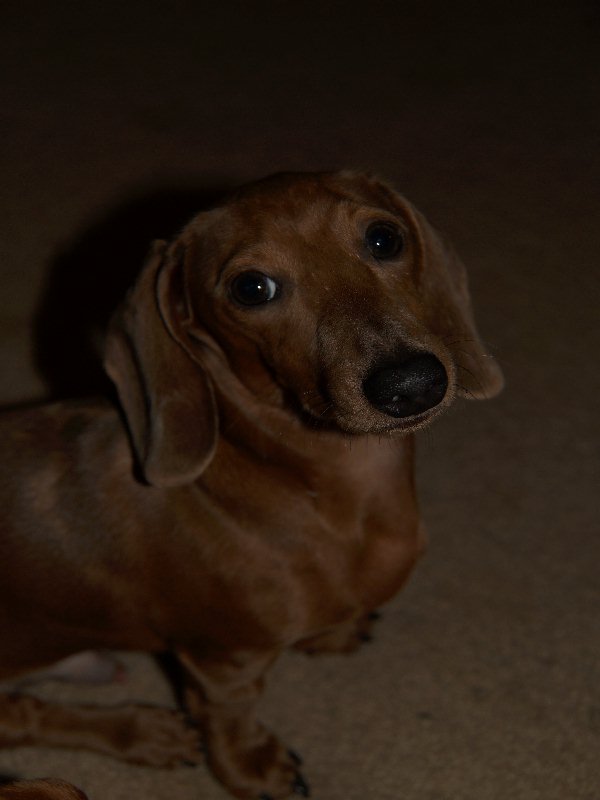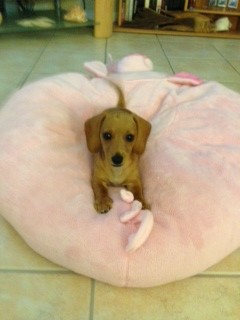 This is Cali & Ash little girl!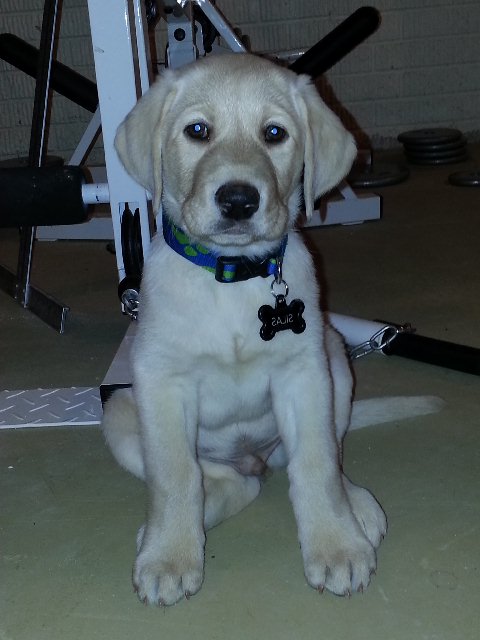 This is Shiloh & Reese's boy!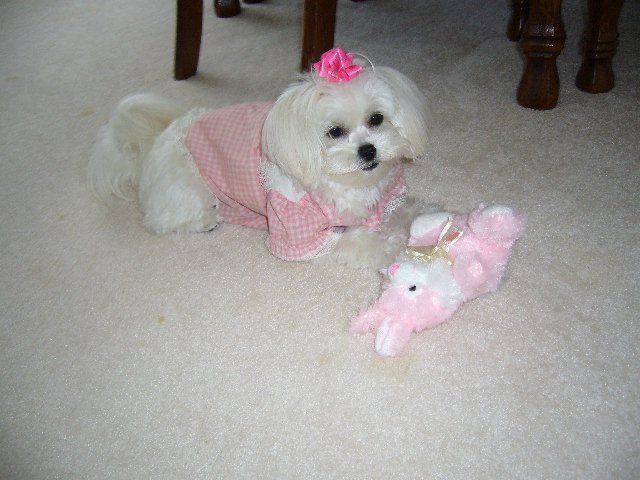 This is a pretty little girl! She is a Peek a Poo!

This page was last updated on 10-11-15